The history of durag is long and strongly rooted in black culture, which is why we have to rely on the facts and words of those who were born in that culture.
Eminem and the Durag, a total flop
Let's go back to 2003, when Eminem caused a stir by taking the stage at the Grammy Awards with a white durag on his head. He was there to receive the award that recognized "The Eminem Show" as the best rap album of that year, and during his speech, Shady made a series of acknowledgements involving RUN DMC, Beastie Boys, LL Cool J, Rakim, Jay Z, Nas, Tupac, Biggie, Dr. Dre, NWA; a long list of black rappers that was not enough to avoid the hostile stares of a large part of the black community. The choice to wear a durag during this ceremony did not go unnoticed, Eminem wanted to make a point, to be accepted. To show that he was one of them, because he grew up with them, but for many this gesture had only one name: cultural appropriation. But why is the durag so linked to a culture that is not ours?
By the time Eminem took the stage, durag had become a symbol. It meant having a street mentality, coming from nothing and being proud of it. It was – and still is – a symbol of recognition, sameness, belonging. The problem is the origin, which Eminem, despite having grown up in this culture, did not have
Fashion, Rap and Durag: the pride of a culture
L'histoire du durag commence en fait bien avant le gangsta rap. Si nous, Occidentaux, ne voyons dans le durag que le côté symbolique, pour une personne noire, il est
he history of the durag actually begins long before gangsta rap. While we in the West only see the durag as symbolic, for a black person it is also a functional accessory. In the 1930s, the durag was popular among African Americans to keep their hair in place while they slept, and even before that, during more than a century of slavery, it was worn by women to protect themselves from the insistent rays of the sun. In addition, durag is also used to keep the hair moisturized and create the effect of what is called waves – an effect that Eminem's hair would never take. ASAP Ferg explained the process very well in a video: silk durag, brush and creams.
The golden age of durag, however, was between the 1990s and 2000s, when the rap music of Cam'ron, Nelly, and Jay Z began to take over. The more famous their names became, the more the durag became a fashion as well as a symbol of belonging. If before, its use was mostly limited to the walls of the house, it was now worn to feel part of a group, to display a precise and rebellious aesthetic. But as such, in the same years that 50 Cent released "Get Rich Or Die Tryin'," the NBA and NFL introduced a dress code that prevented the use of certain garments, including the durag. Guidelines that felt like a handshake to systematic racism, going to strike and limit the aesthetics mainly of black players, by the way, the majority in both sports federations in question. It was an important moment, because for 5 years, nobody saw Allen Iverson with a durag covering his head. The sports idol of all rappers had changed his way of dressing, abandoning this distinctive sign that he carried with him from the neighborhood to the basketball court.
In 2005, the NBA clothing restrictions were changed, but rap had changed in the meantime, we were entering the era of Kanye West, Kid Cudi, Lil Wayne, who released that year "Tha Carter II" with a new aesthetic: long dreads that fell on his shoulders. Since then, and for several more years, the use of durag remained silent, you could still find it in American neighborhoods, of course, but the media impact had faded. At least until 2013, when the BLM movement first came to the fore. America is a repeat offender. "I can't breathe" were not only George Floyd's words, but also those of Eric Garner, also choked by a police officer in 2014. It's no coincidence that in that same year, Rihanna decided to show up at the CFDA Awards wearing a rhinestone durag – so embellished with stones, diamonds in Riri's case – and paired with a see-through Adam Selman gown, an appearance that few people forget today. The Barbados singer did it again in 2016, showing off at the VMAs in a mesh variant, while in 2017 she filled out her Fenty x Puma collection with durag. Yet, for the first time in Vogue magazine's 104-year history, in 2020, Rihanna posed for the cover with a thin fabric tied across her forehead.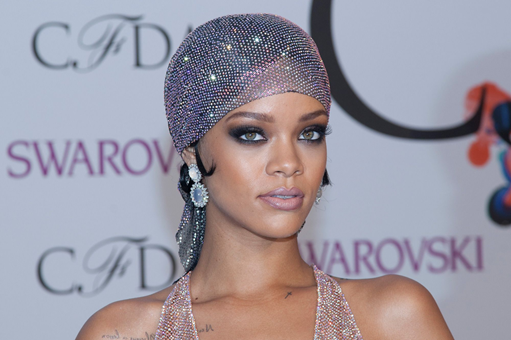 e was Allen Iverson in the early 2000s, Rihanna managed to introduce it to the fashion world like probably no one before, but she wasn't the only one. ASAP Ferg always had an eye for using it: in 2017, as the American election named Donald Trump as the 45th president of the United States of America, the ASAP Mob rapper released "Still Striving," a record that, on the cover, showed his hands in the act of tying a petroleum green durag behind his neck, a bright red background and his bare back barely visible. With this cover and this record, ASAP Ferg seems to be telling us that – once again – it was time to show white people what black people could do, to roll up their sleeves and elevate black excellence.
Art and durag
Over the past four years, many have followed his lead, and Wale explains why with his single "Sue Me," I'm rootin' for everybody that black / Spent 'bout two racks on handmade durags. The durags under the stylish hats in Virgil Abloh's latest collection, for example, are no accident, nor are Beyoncé and Jay Z's choice to fill the Louvre with black dancers with long white durags touching the floor. How many of you watching the video for "Apeshit" noticed the extreme celebration of black excellence?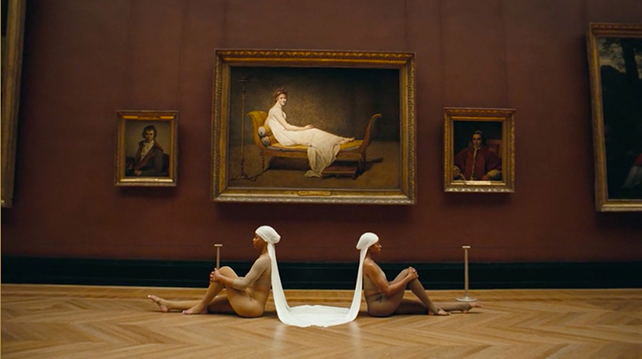 We could spend a day talking about it here, suffice it to say that the footage in the video deliberately frames certain neoclassical works to question the story they tell, not to condemn, but to educate the viewer. And it is with such awareness that, at the end of the video, Bey and Jay turn to look at Da Vinci's Mona Lisa with different, extremely proud eyes. This is what we should all do. That's what most black music does today: it exalts the beauty and capabilities of a culture of which durag is only the most common expression. It's up to us to decide what we do on our peninsula, but do it with a little awareness. Sometimes we strip this symbol of its meaning and wear it like any other garment. Cultural appropriation? Or a demand for acceptance by an imaginary perhaps a little distant? Is it right or wrong? Impossible to say if these are behaviors to condemn. The important thing, in our opinion, is to know their history.